Known for its breathtaking scenery and mild climate, Smith Mountain Lake, Virginia, is one of the most popular residential areas on the East Coast. Framed by the majestic Blue Ridge Mountains, Smith Mountain Lake is an ideal community for families looking for peaceful lakeside living and access to recreational activities.

Given the lake's 20,000-acre surface area and more than 500 miles of shoreline, residents of Smith Mountain Lake have plenty of space for recreational investment. Living on a lakefront means waking up to crystal clear water every morning and taking in gorgeous sunset views from your private deck each night. Below are a few of the many reasons people love living near Smith Mountain Lake.
1. Easy access to cities

Smith Mountain Lake offers the best of both worlds in terms of real estate investing. The community is enveloped by nature but remains conveniently accessible to the city, and to all manner of luxury amenities in between. Most Smith Mountain Lake neighborhoods are in proximity to Roanoke or Lynchburg, two charming cities with trendy restaurants and shops. The eastern shore is closer to Lynchburg, giving access to a historic downtown area, Liberty University, and plenty of shopping and dining opportunities. The western shore is closer to Roanoke's vibrant downtown, several museums, and a variety of quaint shops and restaurants.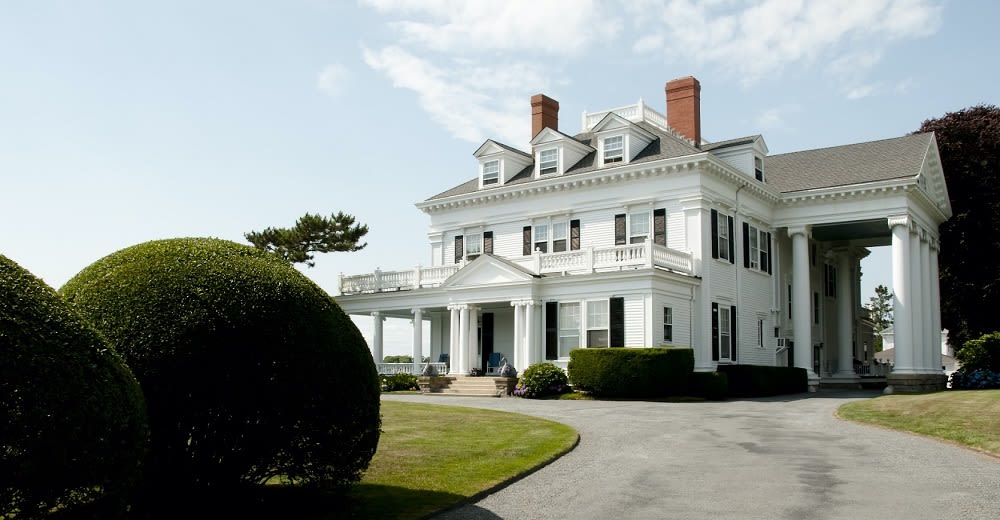 2. Diverse housing options

Smith Mountain Lake features a thriving and diverse real estate market where you'll find shoreline bungalows, country estates, and traditional suburban communities. Properties include both luxury and economy townhouses and condominiums, charming single-bedroom cottages, sizable six-bedroom houses, and two-story Colonial-style homes. Whether you're seeking a small condo or an expansive mansion, you're sure to find a home suitable for your lifestyle and budget near Smith Mountain Lake.

A local real estate expert can give you a tour of the lake by land or boat. You can easily find the secluded paradise you've been envisioning or a well-planned community teeming with suburban amenities like golf courses, fitness facilities, and swimming pools.
3. Sensational views

One of the best benefits of lakeside living is the stunning lake and mountain views offered daily. No matter where you buy, you're sure to be delighted by the tranquil lake scenery, divine sunrises, and colorful sunsets.
4. Health benefits

Being surrounded by nature is undeniably beneficial to your overall quality of life, and frequent access to nature is an excellent source of stress relief. Additionally, swimming is known for its low-impact therapeutic benefits, easing your mind and making it easier to overcome the daily stressors of modern life.

Living in urban spaces, we often lack proper sunlight exposure. When you live close to bodies of water, getting the sun you need is easy. Lake houses are often designed with sunlight in mind, usually including ample windows and promoting good light distribution through the home. We need sunlight for proper vitamin D uptake, calcium absorption, maintaining bone health, mental health, and more.

Research also shows that air near a lake or ocean is charged with negative ions that positively affect your physical and mental state. The air quality near Smith Mountain Lake is excellent, and the picturesque waterfront living will enhance your mood every day.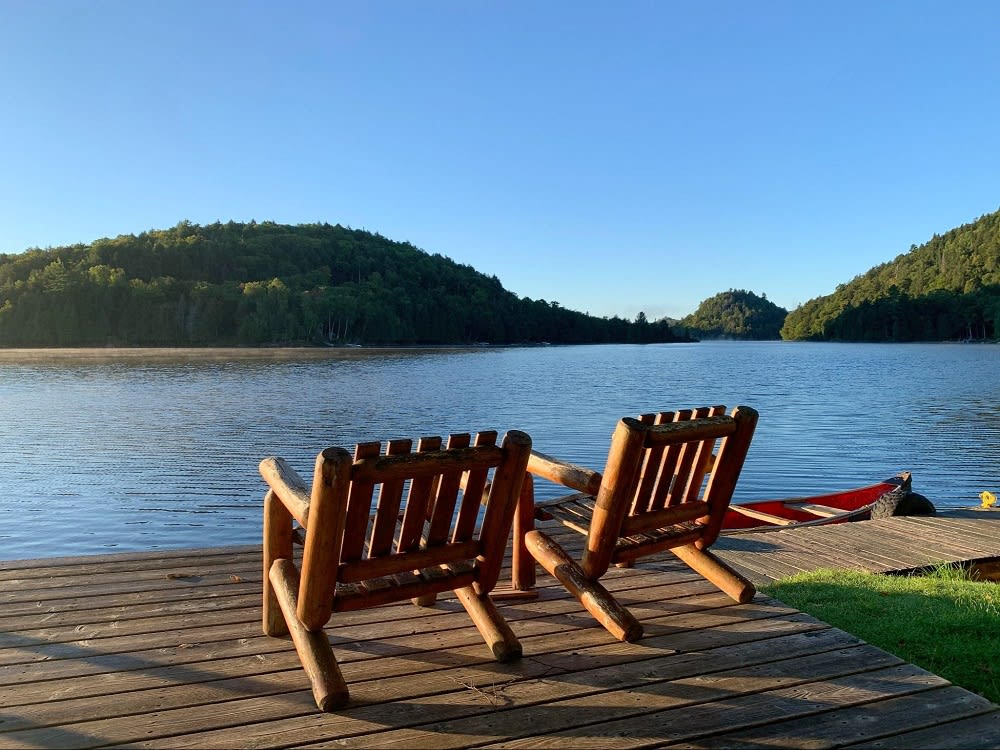 Living on the Smith Mountain Lake waterfront also means saying goodbye to distressing noise pollution that is so rampant in East Coast urban environments. You'll trade car horns and sirens for the sound of flowing water and birds chirping.

Your immune system will also benefit greatly from all of these natural qualities. Between the calming water, sunshine, and crisp air, you will find yourself more centered and ready to face life's challenges when you purchase Smith Mountain Lake real estate.
5. A worthy investment

In general, lakefront properties not only hold value but increase in value over time. Waterfront properties are typically few and far between, so they retain their value for longer periods than their metropolitan counterparts. In addition to having excellent resale value, lakefront homes can be rented out to travelers.
6. Outdoor recreation

Waterfront activities are exceptional for leading a healthier and happier life. Living lakeside makes working out fun. Consider swimming for a fantastic low-impact cardio workout that's easy on the joints. Or take part in some trendy, leisurely exercise like kayaking or paddleboarding. You can rent either (or a tandem kayak) at Play-All-Day Water Sports for a memorable day on the water.

Smith Mountain Lake has numerous public and private boat ramps and marinas dispersed around the reservoir. Anglers can catch black and striped bass, sunfish, catfish, and more. Learn more about the reservoir, what types of fish are found and when to find them here. There are several fishing charters to ensure a fun-filled day of fishing, including The Fat Shad and Capt. Tom's Striper Guide Service.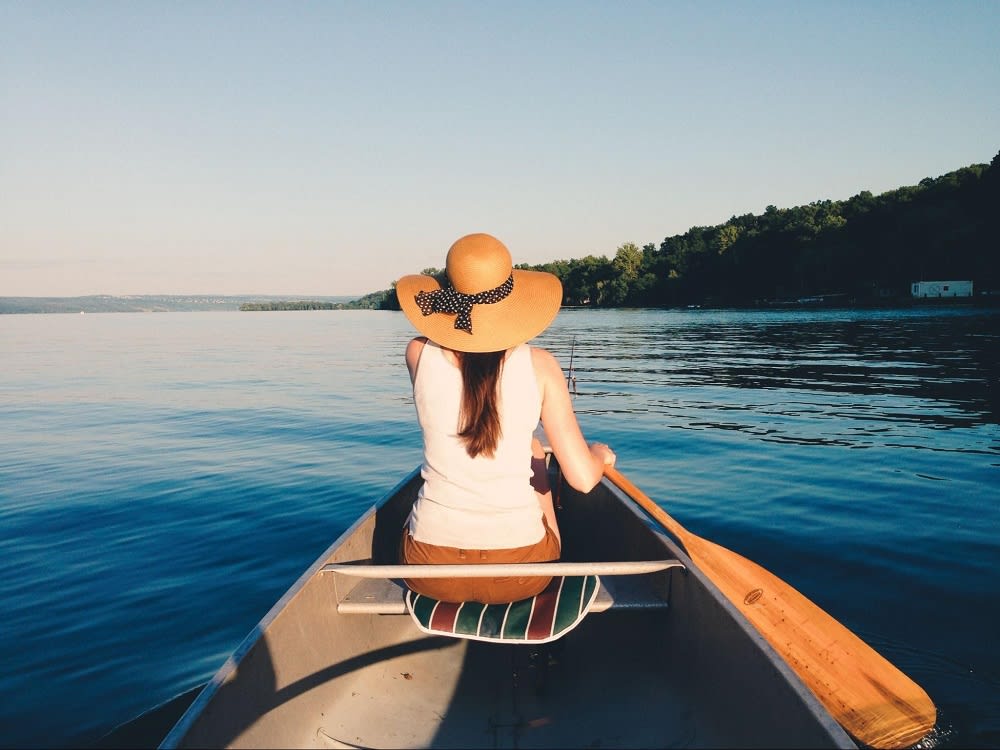 If you're more adventurous, snorkeling and scuba diving are great options to explore the beauty below the water's surface. Thrill-seekers will love water skiing, parasailing, flyboarding, and wakeboarding for their daily adrenaline rush. Boating is another beloved pastime, so contact Parrot Cove Boat Rentals & Sales for all your sailing, fishing, jet skiing, and kayaking needs.

While searching for the perfect lake house, take your family to the expansive 1,248-acre Smith Mountain Lake State Park. You can swim, rent boats, use the boat ramp, and access the fishing pier. Pack a picnic, check out the amphitheater, stop by the visitor's center, and learn about the history of the reservoir.

Also, be sure to take advantage of the many amenities accessible at Smith Mountain Lake Community Park Beach. This family-oriented facility provides 1.7-miles of walking trails, a swimming lane, a playground area, picnic shelters, grills, and a seasonal community beach with lifeguards on standby.
7. Terrific eateries

Finding new restaurants is a fun adventure when living in the city, and Smith Mountain Lake has plenty of beloved watering holes. From your morning coffee to breakfast to a family dinner or date night, below are some Smith Mountain Lake favorites:
8. Convivial canteens

There are several beloved local bars to meet people, catch up with your friends, or enjoy a little romance. Mango's Bar & Grill offers locals a fun tropical-themed ambiance and tasty food. At this Smith Mountain Lake hotspot, you can drink signature cocktails and watch some of the best DJs and local bands. If you're searching for a delicious slice of pizza and a cold one, stop by Pizza Pub, or grab a quick bite and a drink with a view at the laid-back Portside Grill & Bar.
If you're interested in purchasing waterfront property on Smith Mountain Lake, contact The Crouch Team—a trusted group of local experts who can help you find the perfect waterfront home for your needs. This licensed professional team has the luxury expertise and technical know-how to help you the waterfront home of your dreams.