Roanoke, VA, had humble beginnings, but the character it's developed over nearly three centuries gives the town a sense of stability and strength. The selection of Roanoke luxury homes for sale offers high-end living surrounded by old-world charm. If you're interested in the Roanoke real estate market, you will find a wealth of choices to satisfy your taste for luxury and history.
It's not the Roanoke colony

Visitors to the mountain town of Roanoke are often surprised to learn that it was never a lost colony. The famed settlement of Roanoke Island, whose original inhabitants vanished without a trace, was located in North Carolina. You can find the current incarnation of Roanoke Island on the Outer Banks, in the Atlantic Ocean, where you can learn about what happened to those early pioneers.

The name Roanoke comes from the Native American use of seashells for currency. The white, sandy shells are called "rawranock" by the local Powhowten tribe and used as money for bartering and trade. Roanoke is a thriving community in the heart of Virginia, well over 350 miles from the site Sir Walter Raleigh attempted to establish as an English colony in 1585. This vibrant hub of history and fine living lives on today.
Big Lick, Old Lick, and Gainsborough become Roanoke
In the 1740s,
settlers arrived
in modern-day Roanoke and put down roots. They soon noticed the local salt marshes, or "licks", were home to a variety of wildlife that made for good hunting grounds. As they had long been home to buffalo, elk, and deer populations, the marshes provided a sustainable food source, as well as access to the nearby river. Farming was successful in the area as well, thanks to the rich soil provided by the river.
The first village in this mountain valley was named Gainsborough in 1834, but later changed to Big Lick after the salt licks in the area. When the railroad came to the area in 1852, residents of Big Lick saw an opportunity and established a camp near the newly constructed transportation center. The original Big Lick eventually became Old Lick and in 1884, the town became the City of Roanoke.
The railroad changed everything
Roanoke soon became a hub for railroad business, and the resulting rapid growth led to Roanoke's development. Before long, Roanoke emerged as a crossroads for the railroad, and this led to the opening of the Historic Roanoke City Market in 1882. This proved crucial in establishing Roanoke as a bustling center of commerce and transportation. Still in operation today, the city market is the oldest continuously operating open-air market in the United States.
The future of Roanoke is bright
Today, many of Roanoke's classic features shine through modern infrastructure. Residents and visitors alike can wander down the shop-lined, historic streets of rustic downtown Roanoke and take a hiking or biking trip up nearby Mill Mountain. Locals remain proud of their city's heritage, while boldly embracing the possibilities of the future. And, for those looking to find a future in the Roanoke real estate market, there is plenty to be excited about.
Today's Roanoke can be described by a series of interconnected neighborhoods varying in style and sophistication. If you're interested in Roanoke luxury homes for sale, then you may find
two of these neighborhoods
are especially intriguing. Both the South Roanoke and Mill Mountain neighborhoods feature estate-style, high-end mansions situated next door to all the beauty the valley has to offer. The median sale prices in these neighborhoods are considerably higher than surrounding areas, ensuring a lifestyle that is a cut above the rest.
If you're looking to build your own dream home, the surrounding area offers several expansive,
spacious lots
available for purchase. With natural boundaries featuring seclusion and privacy, your fantasy estate could be created in Roanoke.
Luxury real estate can be found in Roanoke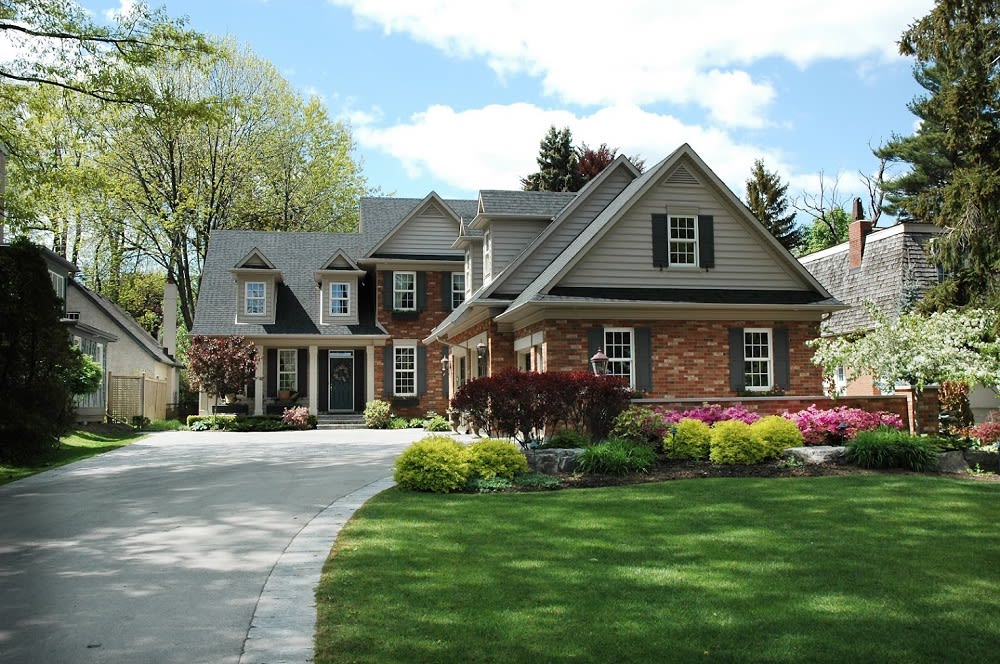 Roanoke has a bit of everything; great schools and top-rated amenities, plus an abundance of outdoor activities. The city features a classic colonial vibe and a verdant green landscape amid vibrant commerce and plenty of local attractions. History collides with modern technology to give this city a style and sense all its own.
Are you ready to buy or sell Roanoke luxury real estate?
With historic homes for sale, as well as space to build the epic, sprawling estate you've always dreamed of, Roanoke has it all. Roanoke's luxury homes for sale give you access to a piece of American history, and plenty of access to the rest of Virginia. If you're ready to get started looking for your piece of Roanoke luxury real estate, contact
trusted local realtor Christy Crouch
.